Installation of machinery
The construction or expansion of an industrial plant necessitates, for instance, the creation of a machine park.
The installation of machines includes the transport of all elements, their proper placement, and correct connection of devices so that they are ready for operation.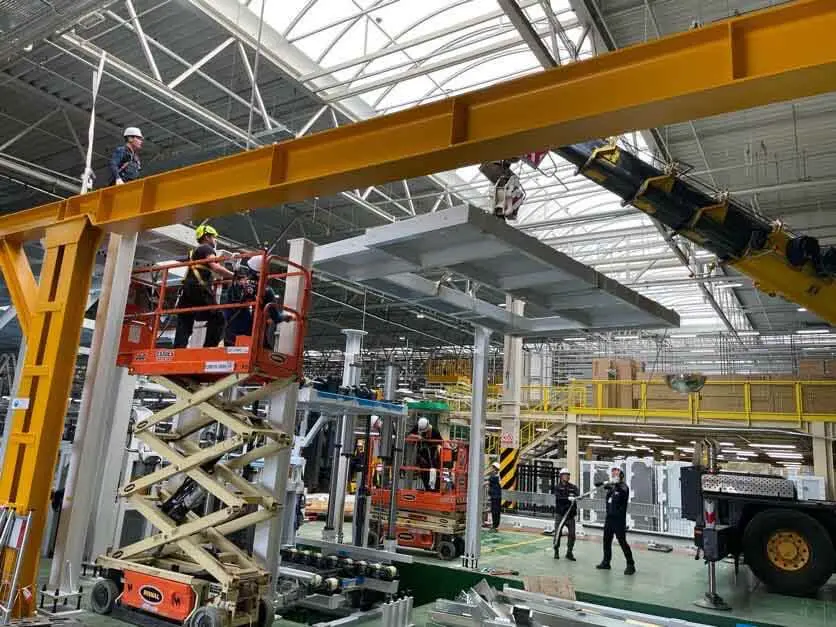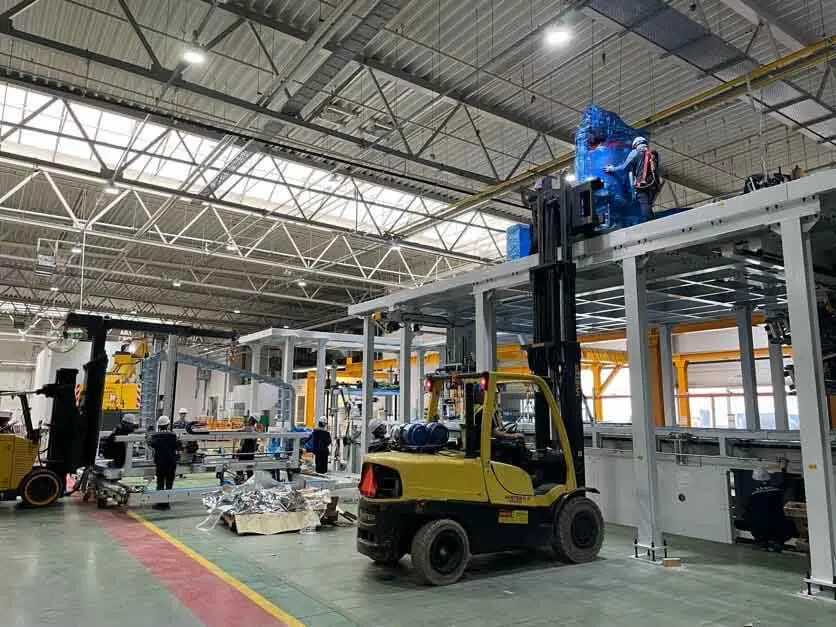 Installation of machines – how do we plan the works?
When planning the installation of industrial machines, we take into account the individual needs of each client. The installation carried out during the plant construction phase requires careful planning. However, it is usually the case that clients want to expand their business and decide to purchase new machinery to be installed without significantly interfering with other processes taking place on site. Therefore, we work together with our clients to ensure that all installation stages take place as quickly as possible and without interrupting other logistics or production operations. We plan the work in advance and inform the client about any restrictions so that they can take this into account when planning their internal processes.
The installation of a machine is usually a rather time-consuming and complicated project, so one of the main tasks of our specialists is to create an appropriate work schedule. This ensures that the client always knows exactly what work we will be carrying out and in what location. In this way, they can redirect employees to another location, ensuring the efficiency of processes and safety of employees. Together, we plan the next steps so that the installation of industrial machines has as little impact as possible on what is currently happening on the shop floor.
Professional installation of industrial machines
Our facilities allow us to handle even the most complex orders. We have special cranes, overhead cranes, hydraulic jacks, rollers and transport platforms, and other equipment necessary for the installation of machine components. We excel at transporting heavy machinery components. Our track record includes the installation of a furnace for heat treatment of metals, the installation of a hydraulic press, and an injection molding machine. Hydraulic cranes and rollers have so far allowed us to efficiently unload and transport elements weighing up to over 60 tonnes! We serve plants operating in any branch of the industry. The extensive machine park allows us to face even the most demanding challenges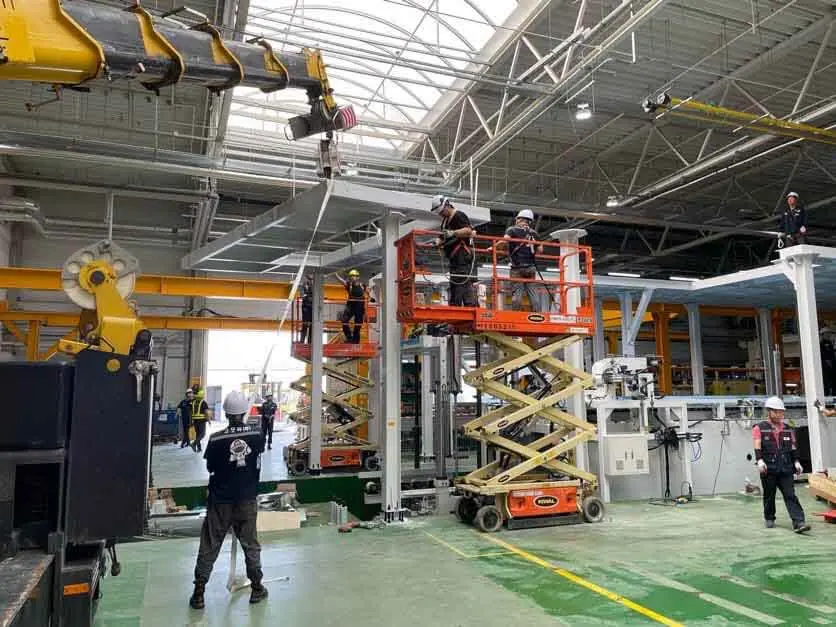 Installation of machines – take advantage of our experience!
We can boast many years of experience in the installation of industrial machines. The correct execution of tasks is supervised by qualified specialists, and due to an extensive machine park consisting of modern and specialized equipment, we can carry out even the most advanced work. In this way, our customers can be assured that the job will be completed as quickly as possible and without interrupting the plant. We work both inside and outside the country.
Are you planning to install machines in your plant and looking for a trusted contractor? Take a look at our offer and contact us for details of cooperation. Put your trust in experience and entrust the installation to trusted experts.
The services that we provide in connection with machine installation services include:
Installation of machinery step by step
The client submits a request for a quotation covering the scope of works. They can do it by email, through a form, or by phone.
We organize a meeting with the client in the production plant to assess the technical and logistic capabilities of the project.
We send an offer tailored to the scope of the inquiry and the details agreed upon during the meeting with the client.
We carry out the project in accordance with the specifications set out in the order and the offer confirmed by the client
number of machines we have installed
number of production lines installations we have carried out
who keep coming back and recommending us
75+ international projects
in the European Union, but also in Mexico, Canada, or Turkey
of various specializations implementing projects in and outside of Poland
Mamy swoich monterów i pewnie bylibyśmy w stanie sami zrobić relokację. Jednak patrząc na plan produkcji postanowiłem, że nie mogę zużyć swoich zasobów. Dlatego postanowiłem skorzystać z firmy, która ma raz, że wielkie doświadczenie, a dwa, że ma do tego zasoby.
Krystian Michniewicz
Z-ca dyrektora produkcji, METALERG
Interesowała nas jakość usług, kompleksowość usług, żebyśmy się nie musieli martwić, że czegoś nam zabraknie.
Piotr Stiżak
New Projects Leader, Joysonquin
Przy powtórnym zamówieniu ważne jest zaufanie. Obserwuje się przenoszenie urządzeń, które często są kosztowne i istotne w procesie produkcyjnym. Zwraca się uwagę, czy przy procesach logistycznych jest dokładana odpowiednia staranność. A że Państwo wykazaliście się raz, teraz kolejny, to można jednoznacznie powiedzieć, że znacie się na tej pracy.
Piotr Woźniak
Kierownik Działu Inżynierii Produkcji, SMAY
B8 mogła zmieścić się w tym krótkim terminie, który chcieliśmy
Przemysław Król
Maintenance Manager, IL COSMETICS
The companies
that trusted us:
Żeby przedstawić Ci naszą propozycję zasad współpracy, poprosimy Cię o informacje na temat zlecenia.
Na wstępie możemy Ci powiedzieć, że dotychczasowi klienci cenią nas za:
Żeby przedstawić Ci naszą propozycję zasad współpracy, poprosimy Cię o informacje na temat zlecenia.
Na wstępie możemy Ci powiedzieć, że dotychczasowi klienci cenią nas za:
Oferta jest taka, że można byłoby się pokusić o niepodpisywanie umowy. Wszystko w niej jest i to zaoszczędza nasz czas, bo nie musimy o nic dopytywać. Nie jest to jednak dwudziestostronicowa książka. Oferta jest precyzyjna, jasno podzielona, przejrzysta – warunki usług, płatności, terminy.
Production Engineer at Essilor
or if you prefer, you can just call or email.
Below you will find answers to the most frequently asked questions from our customers: